---
Hello and Happy New Year from the Butler Children's Literature Center at Dominican University! You are hearing from us because we think you might be interested in what's going on here at the Center; if that's not the case, simply select the "Unsubscribe" option below and you won't receive further communications from us. If you're interested but would rather not receive periodic emails (generally limited to one per month maximum), you can always visit us on the Butler's Pantry blog or on Facebook.
So let's get started! What IS going on at the Center this spring?
Open Hours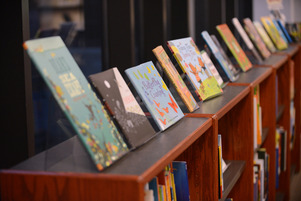 The Butler Center welcomes teachers, librarians, booksellers, parents, grandparents, caregivers and anyone interested in literature for young people. We are open M-F from 1-6 p.m., or by appointment with the curator; contact butler@dom.edu.
The Center is a non-lending library but our staff is here to assist you in locating books that address specific themes, age groups, or reading levels.
Butler Book Banter (B3)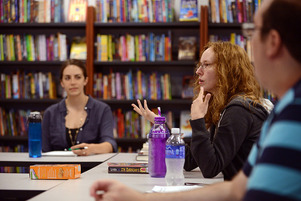 Monthly book discussion groups take place from 6-7 p.m. and are organized thematically:
February 10: Teen Love Stories
March 2: Theme TBD
April 20: Theme TBD
Stay tuned on the Butler's Pantry or via our social media for featured books, which will be announced in advance.
2016 Butler Lecture Featuring Christian Robinson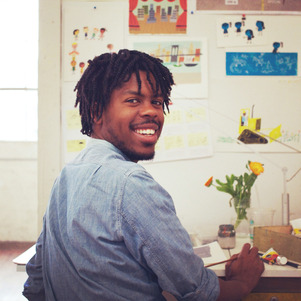 We are thrilled to welcome 2016 Caldecott and Coretta Scott King Honoree Christian Robinson to Dominican on March 16! Last Stop on Market Street by Matt de la Pena (Putnam, 2015) is also the first Newbery Medal winner by a Latino author, and only the second in history (since 1928) to be awarded to a picture book. Join us for "You Are Here: Finding Yourself in Picture Books." The Lecture will take place from 6-7 p.m. and will be followed by a reception and booksigning.
This event is free and open to the public, with registration required. Learn more or register.
---
The Butler Center is located in the Rebecca Crown Library, room 214, on Dominican's main campus at 7900 W. Division Street in River Forest, Illinois. Directions and a campus map are available here.We hope you'll want to visit us, or join us for an event this spring, and stay tuned about our news and upcoming events. Please contact me with any questions you have. I look forward to seeing you soon!
Diane Foote
Assistant Dean and Curator, Butler Children's Literature Center
Dominican University GSLIS
gslis.dom.edu
butlerspantry.org
butler@dom.edu